It occurred to me that I skipped over a very important topic: safety. Hopefully, all your digits have survived to this point, and this post will save you from future suffering.

First, don't eat the paint. It's not good for you.
Don't use the back of your hand as a palate. I've been told it will give me hand-cancer.


Don't push on a stubborn breyer body with a heat gun. Especially don't use it force a limb towards yourself…when it's still hot…and hit yourself in the face. (Notice in "Brands I Prefer: Part 2" that my heat gun has a plastic cover over the tip. This tip is removable. Don't.)

Don't paint in poorly ventilated areas like bathrooms, windowless rooms, or the back of your garage.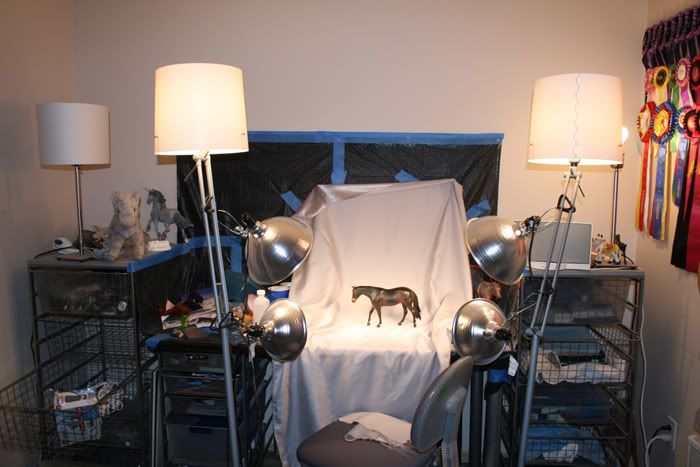 Don't dremel anything without safety glasses and a mask. Don't buy the "cool looking" glasses when the high school chemistry class model will better protect your eyes. Don't let your goggles collect dust in the garage while you merrily dremel on the floor of your bedroom.

Don't run rubbing alcohol through your airbrush without a mask. Really, don't paint without a mask. Or take your mask off…ever.

Don't glue your fingers together.

After gluing your fingers together, don't go back and put more glue on your fingers, dip them in baking soda, scream from the burning pain of this combination only so you can easily peel the glue off your finger tips.

Wear gloves. Always. Except when using Apoxie. Buy those latex ones in bulk.


---

I've been asked a few times why this blog is called "Don't Eat the Paint." In a nutshell, it's all due to a certain model horse artist. I won't post her name as to avoid any embarrassment for the parties involved.

The long version is I attended one of [NAME REDACTED]'s painting clinics when I was a young aspiring artist. That was where I learned you can stick a brush in your mouth when you're desperate enough for liquid to thin out your paint. It's shockingly common behavior among painters. So the title really means "do as I say, not as I do," which I find applies frequently.